Stepping into History at the Oconaluftee Indian Village
9.3.2015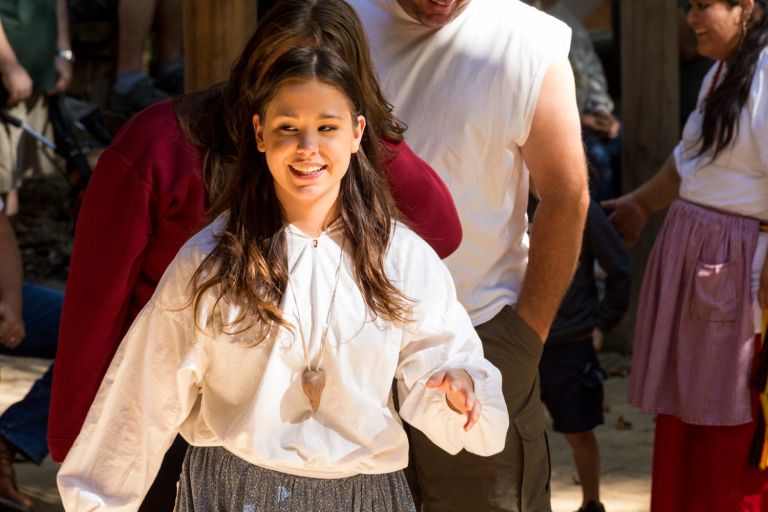 A ticket to the Oconaluftee Indian Village is like taking a journey back in time to a Cherokee village in the late 1700s. Join one of the guided group tours that happen throughout the day, or wander through the village on your own, through winding paths lined with ancient oaks and sycamore trees, between live craft demonstrations and model Cherokee log homes, as the pleasing aroma of campfire wafts in the air.
The Oconaluftee Indian Village is one of the most beloved attractions in Cherokee, and for good reason. Not only is it an immersive, engaging experience, but it's a chance to learn about the history, culture, and traditions of the Cherokee from modern day Cherokee people.
As singer, Village performer, and Cherokee native Freddy Wilnoty II describes it, the Oconaluftee Indian Village is a "living history museum."
At each station, you can watch live demonstrations that are explained in great detail and with historical context in the group tours. From finger weaving, beadwork, pottery, wood carving, basket weaving, and making weaponry--including a popular blowgun demonstration--you can learn about the historic materials and techniques used for each craft, as well as ask any questions.
"Being open and asking questions really enhances the experience," says Freddy, noting that children are especially inquisitive about the craft and weaponry demonstrations, as well as the Cherokee dance performance that he ring leads each day at 12:00 and 3:00 pm.
"We get a lot of history buffs that come through too, to learn more about Cherokee history and customs," he adds.
As Freddy sees it, his role, and the role of the other Village staff, is to educate visitors about the history of the Cherokee, to keep the culture, language, and traditions alive.
"If the younger generation doesn't do it, then who else will?" he asks.
Hours of Operation
The Oconaluftee Village is open Tuesday through Saturday from 10:00 am–5:00 pm, April 18th until November 11, 2017. Tours every 15 minutes except from 11:30 am–12:30 pm and 2:30 am–3:30 pm. The last tour is given at 4:00 pm..
Tickets
Tickets to the Oconaluftee Indian Village can be purchased here. The Village is located at 218 Drama Road, Cherokee, NC.
Featured Points of Interest
---
Next Post »
« Previous Post
&nbsp