Disruption in The Museum of the Cherokee Indian
9.20.2022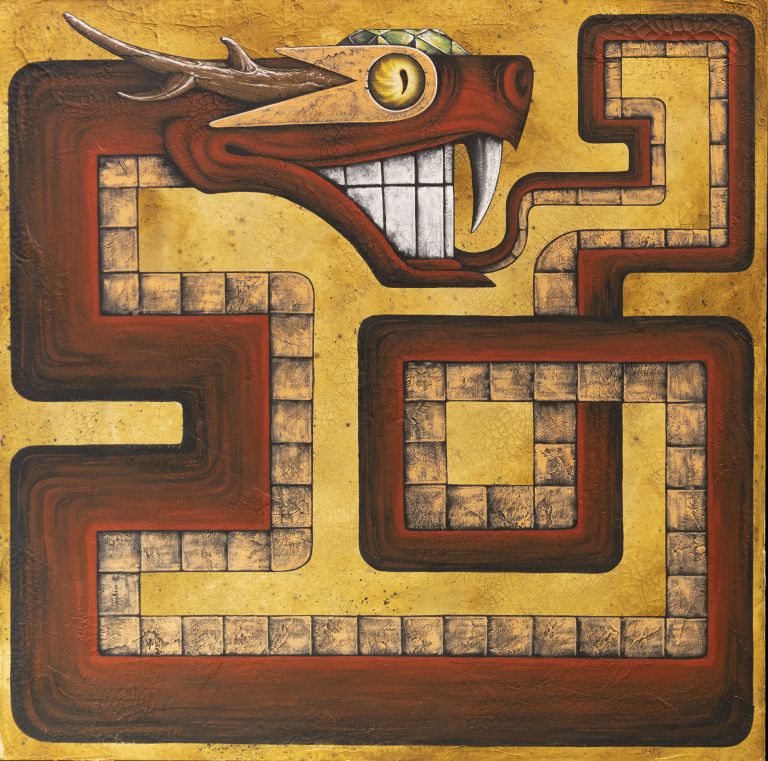 (Above: Work by John Henry Gloyne |EBCI, Osage, Pawnee)
Art intervention addresses removal of sacred objects from permanent exhibition
There's a new exhibition at The Museum of the Cherokee Indian (MCI), on display now until September 11, 2023.
Disruption is an artists' response to the removal of sacred objects from the museum's collection that weren't intended for public view.
Featuring works by 36 enrolled members of the Eastern Band of Cherokee Indians (EBCI) and Cherokee Nation, the new exhibit "disrupts" the timeline of the permanent collection, filling the gaps of the removed objects, and weaving the past with the present.
One of the Oldest Tribal Museums
Located on the Qualla Boundary, ancestral homelands of the Cherokee and home of North Carolina's only federally recognized tribe, the Eastern Band of Cherokee Indians, MCI is one of the country's oldest tribal museums.
Its permanent exhibition opened in the Museum's current building in 1998 and is toured by an estimated 83,000 visitors annually.
(Above: Work by Kindra Swafford |Cherokee Nation)
Making Things Right
In January 2022, one month following his appointment as Director of Collections and Exhibitions, Evan Mathis led an inventory of the Museum's collections, consulting with EBCI Tribal Historic Preservation Office's Lead Archaeologist Beau Carroll (EBCI), and numerous community members to identify funerary and sacred objects for removal.
"Native people have been fighting against these types of objects being on display in museums for decades—that's why the Native American Graves Protection and Repatriation Act (NAGPRA) was created," says MCI Director of Education Dakota Brown (EBCI).
"NAGPRA was supposed to be the first step in the right direction, but there is a whole moral component that comes with caring for museum collections. As a tribal museum, we have even more of an obligation and responsibility to the objects, because we consider them ancestors, not just artifacts. The people who made these, who put their energy and creativity into those objects, used them, wore them—we're being respectful of them."
Empty Cases Filled with Contemporary Works
In lieu of empty display cases, MCI invited contemporary artists to disrupt the Museum's chronological timeline through site-specific works, ceramics, paintings, carvings and sculpture, works on paper, multimedia works, and more.
Though art was required to fit in the artists' selected display cases, guidelines were kept to a minimum, facilitating honest reactions and uniquely creative interpretations.
Participants include established voices like internationally-exhibited multidisciplinary artist Luzene Hill (EBCI), emerging millennials like printmaker Skye Tafoya (EBCI, Santa Clara Pueblo), and numerous first-time exhibiting artists and craftspeople who are the torchbearers of their family's creative legacy.
"We reached out to artists who excite us, who are using ancestral methods and aesthetics, pushing the envelope, and coming up with something new that people haven't seen before," said Mathis.
"Our hope is that visitors will see modern Cherokee people reflected back at them in this intervention."

(Above: Work by Lori Reed | EBCI)
A Moral Responsibility
Disruption is also an opportunity for Museum visitors to learn about repatriation, NAGPRA, and Indigenous collections care.
"An important piece for the public to understand is not only the laws that are in place, but also the moral responsibility," says Brown. "We hope that explaining this throughout the exhibit will be helpful for our visitors."
Exciting Things to Come
Disruption's opening follows MCI's announcement of its plans to build an off-site collections and archives facility and update its permanent exhibition, both long-term projects that will allow Mathis's team to implement a collections care policy that prioritizes Cherokee cultural protocols and American Alliance of Museums' core standards and ethics.
The policy was approved by the MCI Board of Directors in July 2022. Museum staff look forward to providing a safe, secure home for material culture and ceremonial objects and a welcoming space for tribal members to view sensitive collections. Though construction planning for the new facility is in its initial phases, Mathis affirms that tribal members are welcome to schedule a tour of MCI's current collections space by emailing him to arrange a visit.
Plans for the Museum's updated exhibition include an extended timeline (the current permanent exhibition ends around 1920) showcasing modern and contemporary Cherokee culture and artists.

(Above: Work by Adrienne Keene|Cherokee Nation)
Tieing it All Together
Disruption is a first step toward "disrupting" the chronological flow of the exhibition.
"Rather than define objects by a time period, we want to define them by a culture and show how it's all tied together," Mathis explains.
"We're telling stories instead of following an archaeological timeline," adds Brown.
With an eye on the Museum's future and ambitions to further exhibition and learning opportunities for Cherokee artists of all levels, Mathis and Brown welcome audiences to engage with this new interpretation of the Museum's 24-year-old exhibition.
"This is where museums are headed," says Brown. "It's about being more responsible with collections and making sure that we are doing things in the most ethical way possible."
Exhibition Dates and Location
September 8, 2022—September 11, 2023
Museum of the Cherokee Indian, 589 Tsali Blvd., Cherokee, NC 28719

(Above: Work by Keli ᎨᎳᏗ Gonzales | Cherokee Nation)
Featured Artists

Joshua Adams (EBCI), Haley Atsei Cooper (EBCI), Shennelle Feather (EBCI, Diné, Lakota), John Henry Gloyne (EBCI, Osage, Pawnee), Louise Goings (EBCI), Keli ᎨᎳᏗ Gonzales (Cherokee Nation), Luzene Hill (EBCI), Adrienne Keene (Cherokee Nation), Darius Lambert (EBCI), Michelle Long (EBCI), Tyra Maney (EBCI, Diné), Toby McCoy (EBCI), Tara McCoy (EBCI), Lou Montelongo (EBCI), Dylan Morgan (EBCI)¸Gina Amanda Myers (Swimmer) (EBCI), Lori Reed (EBCI), Isabella Saunooke (EBCI), Chi Shipman (EBCI), Kindra Swafford (Cherokee Nation), Jakeli Swimmer (EBCI), Mikhail Swimmer (EBCI), Kevin Tafoya (EBCI, Santa Clara Pueblo), Skye Tafoya (EBCI, Santa Clara Pueblo), Emma Taylor (EBCI), Nola Teesatuskie (EBCI), Billy Joe Welch (EBCI), Tovah Welch (EBCI), Levi West (EBCI), Jarrett Wildcatt (EBCI), Jennifer Wilson (EBCI)
Exhibition Organization and Curators

Disruption is organized by the Museum of the Cherokee Indian. It is curated by Evan Mathis, Director of Collections & Exhibitions, and Dakota Brown, Director of Education.
About the Museum of the Cherokee Indian
Established in 1948, the Museum of the Cherokee Indian is one of the longest-operating tribal museums in the United States. Recognized for its innovative storytelling, the Museum features exhibits, artwork, and hands-on technology that brings 12,000 years of Cherokee history to life. Learn more by visiting mci.org.
Featured Points of Interest
---
Next Post »
« Previous Post
&nbsp